Here's how it works……
As mandated by Ohio Law (O.R.C. 2923.125(G) successfully complete a minimum 8.0-hour handgun training course consisting of 6.0 hour in-person or online classroom training followed by a minimum 2.0-hour in-person range training with a live-fire exercise to apply for your Ohio Concealed Handgun License.
The sign-up fee thru Pay Pal for the online interactive classroom training is $39. The Range exercise fee for the Waynesville & Mansfield range is only $30, other range location/ instructor fees may vary, please see the list below. The range class fee is collected by the individual range/Instructor. PayPal notifies us after you sign up, then you will shortly receive instructions sent to your sign up email address to start the online classroom training program.
The interactive components of our online course are completely web-based and can be accessed on any computer, phone, or tablet that has an internet connection. The minimum 6.0 hour online classroom portion is easy to follow, completed at your own pace and on your own schedule. The course is designed for the novice/beginner, as well as the seasoned shooter, to qualify you to apply for an Ohio Concealed Handgun License.
After you finish the online classroom within a thirty (30) day period from the sign-up date, select one the listed range locations/instructors below or select any Firearm Instructor or Gun Range qualified under Ohio law that offers the range training to complete the 2.0-hour range exercise. It is recommended that you complete the entire program within a period of ninety (90) days from sign up.
Upon safe & satisfactory completion you will be issued Certificates of Completion for minimum 6.0-hour portion and the 2.0 hour range exercise by the officiating range/instructor for the training that is valid for a period of 3-years from the issue date to apply for your Ohio Concealed Handgun License.
If you are a Veteran of the U.S. Armed Forces with documented handgun training on your service documents, this training program is not required to apply for your Ohio CHL. Without such handgun documentation, the training program is required, however, in either case the license fee to apply for a CHL is waived by the State of Ohio.
If you currently hold an Ohio Medical Marijuana Card Card please do not apply.
Now, scroll down the page to the red box ""Reserve Now" and click it to sign up for our great online program and be one of the hundreds-of-thousands of law-abiding Ohio citizens supporting the 2nd Amendment right or keep and bear arms for your personal defense & family's protection. We won't guarantee you'll be a world class Olympia shooter when you finish our course of training but with a little practice, practice, practice and more practice you might become one someday.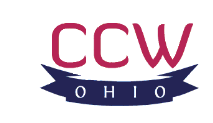 About Us
CCW Ohio® is owned by a Navy Veteran & Son. Our program provides the online class and mandatory in-person range training at our private range located near Waynesville, Ohio. You may also complete your range training at one of the Ohio Ranges listed below or any qualified range/instructor of your choice that will provide the necessary minimum 2-hour range training for you to apply for your Ohio Concealed Handgun License (CHL)

Waynesville Area Range
The southwestern Ohio Range class is conducted at Waynesville, Ohio, by H. "Art" Carney & Andrew Carney . We supply a silencer equipped handgun & the ammunition for the range training at no additional charge. Your handgun is not permitted at the Waynesville range. Classes are normally scheduled on Saturday's. For more information please email Art: artsflash@gmail.com

Mansfield Area Range
The north central Ohio Range class is conducted near Mansfield, Ohio operated by Rich Mauk, owner of Mauk Tactical, 1735 Osbun Road, Mansfield, Ohio 44903. Use your own handgun & ammo or a loaner for a fee, for more info text 419 961 5205 for fastest reply or email Rich: mauktactical@yahoo.com
Warren-Youngstown Area Range
The northeast Ohio Range class is conducted in North Jackson, Ohio just south of Warren, Ohio & west of Youngstown, Ohio operated by Jared Markotan, owner of Markotan Defense Solutions. The range training is conducted in an indoor range facility, you may use your own handgun and ammo or a loaner for a fee. The indoor range fee is $50. To inquire about available range dates please call 330 272 5599 or email Jared: markotandefense@icloud.com
Central Ohio Area Ranges
Three ranges in the Central Ohio area have been used for CCW Ohio students to complete the range exercise: EGA Defense -1570 State Rte. 38 NW., London, Ohio 43140 (614) 315-9632; AimHi - 10299 Johnstown Rd., New Albany, Ohio 43054 (614) 939-4867; Briar Rabbit Sporting 2949 Granger Hill Rd., Zanesville, Ohio 43701 (740) 454-3817.
All instructors hold a current firearm or multiple credentials from a national gun advocacy organization recognized by the State of Ohio. Range fees may vary depending on range location/instructor.
t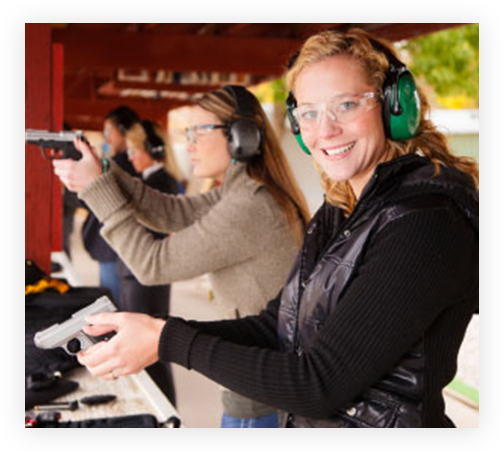 Ohio Concealed Carry Permit Information O.R.C. 2923.125 (G)
The State of Ohio requires 8 hours of training in the following matters: • The ability to name, explain, and demonstrate the rules for safe handling of a handgun and proper storage practices for handguns and ammunition; • The ability to demonstrate and explain how to handle ammunition in a safe manner; • The ability to demonstrate the knowledge, skills, and attitude necessary to shoot a handgun in a safe manner; • Gun-handling training and read the current CHL Online Manual - to receive your certificate to apply for your Concealed Handgun License (CHL). Our Ohio six (6) hour online training program is available 24/7 - you don't have to do it all at one sitting. Spread it out over several days if you prefer then reserve a seat in a two (2) hour in-person range class. Don't worry if you've never even held or shot a handgun - many of our students have not!
The engaging interactive components of our online training program are very easy to follow and the training material has been designed for the novice, as well as the seasoned shooter. It was created by a Certified Instructor and Training Counselor to comply with the State of Ohio CHL requirements.
How to register/schedule
To sign up, select the number of seats, then click on red box "RESERVE NOW" to connect to PayPal, use your credit card for the $39 fee required to access the online training; the Range training fee will often vary between $30 to $50 depending on your range or instructor selection. After registering you will receive email instructions to begin your online training. See "The Fine Print" below for cancellation after sign up. Call Art @ 937.689.9674 or email your questions to: artsflash@gmail.com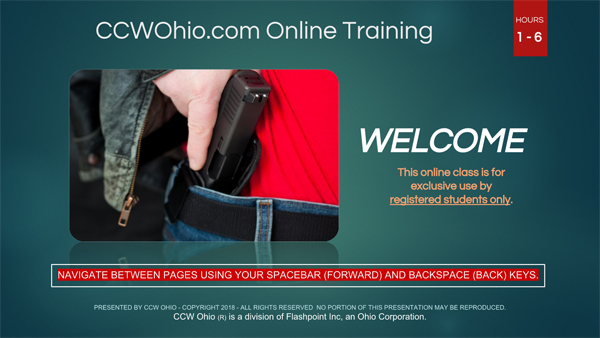 Reserve a seat
Click on "Buy Now" to purchase the Waynesville $69 package as a gift for that special person!
You will receive a printable Gift Certificate to present to a lucky person redeemable only at the Waynesville Range with instructions on how to begin the course.

---
CLASSES SELL OUT QUICK - SIGN UP SOON!
---
The Fine Print - Disclaimer - Limitations
Our online training website is licensed for use to only registered students. No portion of the material contents therein may be copied or transferred to another party. It's contents are for firearm educational purposes of fundamental firearm safety rules, safe firearm handling practices, other training material & information to be used in applying for an Ohio Concealed Handgun License in accordance with O.R.C. 2923.125(G).
Once the digit entry code/gift certificate to our online training material is sent to the supplied email address, only the purchaser may request for a refund of the course fee within three (3) days from the sign up date and is subject to a $9 cancellation charge at our discretion; no refund request of the course fee will be approved or authorized after this three (3) day period of the digital code transfer of the training material.
Please complete the online course at your leisure within a thirty (30) day period of sign up and reserve a range class seat so as to retain the knowledge of the majority of the information presented to achieve a passing score on the required written examination. The complete course training should be completed within a 90-day period of your sign up date to avoid forfeiture of any course fee, unless an extension has been requested and approved in writing. Reserving a range class seat and failing to appear at the appointed time may result in additional fees to complete the course.
Each individual range training facility and it's staff, except the Waynesville range, is a separate entity from CCW Ohio capable of providing the fundamental firearm training in accordance with the requirements of ORC 2923.125(G), and unaffiliated with nor owned by CCW OHIO, and set their own range fees for service rendered..
The use or possession of marijuana (a Controlled Schedule 1 Substance), even with an Ohio Medical Marijuana Card, is a violation of Federal law 18 U.S.C. 922; attempting to buy or having possession of a firearm is punishable by a fine and/or incarceration.
Please be aware that you may be required to visit an adjoining County Sheriff's Office to apply for an Ohio Concealed Handgun License.